THE
PROJECT
The general and operational objectives of Vitinnova.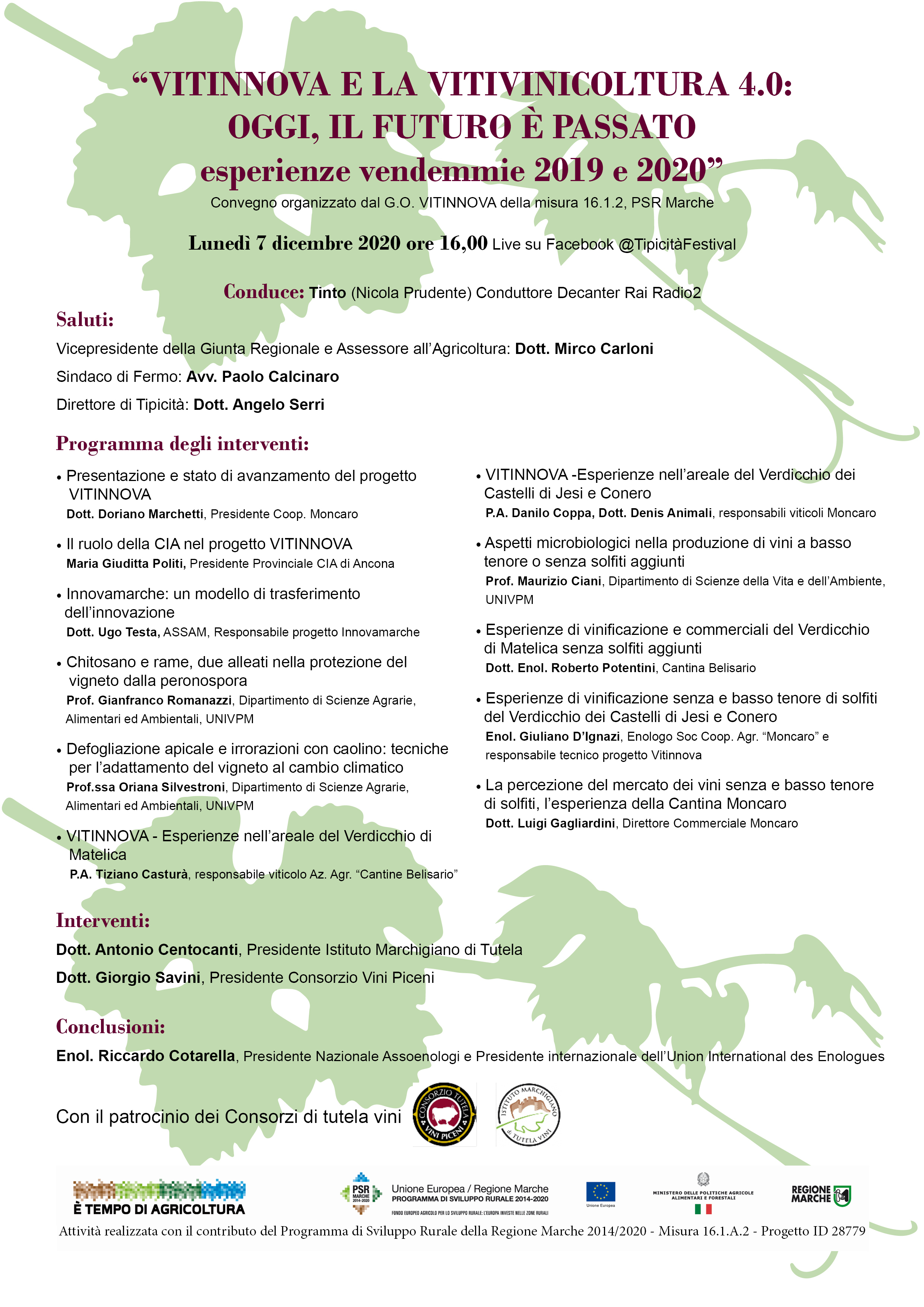 Segui la diretta: Vitinnova e la Vitivinicoltura 4.0
General objectives
The intent is to reduce the use of copper in organic vineyards, replacing it with alternative products of proven effectiveness, which need to be developed within specific growth and business conditions.

The vegetative development, growth balance and the progress of the ripening of grapes will be monitored, in order to adapt the agronomic interventions and mitigate the effects of climate change, also through the techniques of "precision farming".

In addition, the production of organic wine with a low content or absence of sulphites is proposed, so as to improve the quality and safety of the finished product for a healthy and balanced diet.
Operational objectives
The VITINNOVA project aims to innovate anti-mildew protection strategies of organic vineyard using alternative substances to copper, like chitosan, in order to obtain the production of wines with a reduced or absent use of the dangerous heavy metal, which is known to accumulate in the vineyards and whose contribution is subject to restrictions, with limits of use destined to be further decreased.

VITINNOVA want to develop innovative techniques for management the foliage of the organic vineyard capable of limiting the effects of climate change; apply the precision viticulture techniques currently available to the monitoring of vigour and the identification of uniform areas on which to regulate the interventions to make the vineyard more uniform (fertilization rate-variable) or to value variability (selective harvesting); improve the health status and the repining of harvested grapes through a detailed monitoring of the progress of ripening, the choice of appropriate management measures of the foliage and a more timely harvest thanks to the use of grape harvesting machine even in the slop areas.

With the purpose of reduce or eliminate the use of sulphites and limit as much as possible the hydrogen sulphide production by yeasts, will be used cryogenic gases (liquid nitrogen and/or CO2) for the instantaneous lowering temperature and to limit contact with oxygen.

Action 1. To limit or cancel the use of copper in organic viticulture using alternative products in the anti-mildew protection of the vineyard for the production of wine grapes

Action 2. To optimize cultivation (defoliation, harvesting) and the use of agrochemicals and fertilizers with techniques of precision farming (Moderna, moncaro, belisario, UNIVPM)

Action 3. To apply new cultivation techniques for adaptation to the changed climate context on the basis of early monitoring of the progress of ripening (Moderna, moncaro, belisario, UNIVPM)

Action 4. Development of technologies for the vinification of organic grapes for wines without added sulphites and low H2S content

Action 5. Development of winemaking techniques of organic grapes to produce wines with reduced sulphite content

Action 6. Dissemination of project activities

Action 7. Coordination and administrative management of the working group.